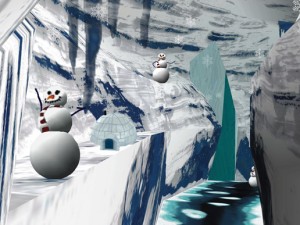 Virtual reality games may help with the opioid epidemic.  When we think about virtual reality games, most of us would make up images of people relaxing on the couch, with the hours ticking away as they play. While many people may do that for fun.  Research is pointing to the idea that particular virtual reality games may hold promise in helping to address the opioid epidemic the country is facing.
According to the U.S. Department of Health & Human Services, there are 12.5 million people each year who misuse prescription opioids.  And, over 33,000 people die from overdosing on them. Of that, over 15,000 of the deaths are attributed to overdosing on commonly prescribed opioids. It's an epidemic that is costing over $78 billion per year (1), and it's an issue that we need alternatives for in order to address it.
Researchers are finding that virtual reality games, like the one called SnowWorld, are helping those with chronic pain. In a trial that was conducted that involved 100 people at the Cedars-Sinai Medical Center in Los Angeles.  They had one group of patients play the virtual reality game called Pain RelieveVR, while, the other group of patients was shown a nature scene video.
In the virtual reality games, the patients tasked with shooting balls at moving targets.
After 15 minutes of play and viewing, they found that 65% of those who played the game had pain relief, while, 40% of those who watched the nature video had a pain reduction (2). This supported prior research on virtual reality games for addressing pain, which also showed that it was effective at helping to bring relief.
The virtual reality game SnowWorld used for years to help burn victims. The game developed at the University of Washington.  The player throws snowballs at snowmen.  Often used when dressing wounds.  So, the patient is distracted and thus has a reduction in the amount of pain they are experiencing. While the game designed specifically used by burn patients.  More people may begin engaging in such games as the benefits of helping to relieve pain become more well-known.
Those who never dreamed they would become virtual reality gamers may someday throw snowballs in a virtual reality setting to help safely reduce their pain. Playing video games could end up being a powerful alternative to the use of opioids.
Sources:
S. Department of Health & Human Services. The Opioid epidemic in the U.S. https://www.hhs.gov/sites/default/files/2017-opioids-infographics.pdf
Bloomberg View. Virtual reality can conquer real pain. https://www.bloomberg.com/view/articles/2017-06-13/virtual-reality-can-conquer-real-pain